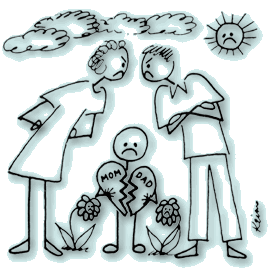 Image via PicGifs.com
Today I was listening to NPR and they were talking about breakups. The story that grabbed my attention was the example given by a little girl who wanted to know why her parents were getting divorced. She explained that the she wanted to know the real reason why and not adults told her and not the regular answer of "it will be ok answer."
While listening to the story and her want of the reconnection of her parents, it brought back memories of my feeling when my parents separated. I recalled that same feeling of "why" and the urge of wanting them to get back together even I knew this was not going to happen (cause my mother told me she would NEVER get back with him). I knew this and experiences the reason why my mother left my father in the first place. But this did not stop me from wanting them to be back together. That want of normalcy, that longing to be like the child in school where their father came to the school to pick them up during "parent pickup" or to go to take me fishing. I recall sitting with the friendly man (counselor) as a child and telling him I wanted my mommy and my daddy to be together. Why? I don't know I knew my daddy was really mean to my mommy and me, that he would do real bad stuff to me and cause me pain, embarrassment, and anger. But I didn't care it was this longing a deep desire.
Now why would I want to live with a guy who not only put a gun to my mother's, head pull the trigger (thank god it misfired) whiled I watched but beat me senseless on several occasions? Is it a biological longing to be with your parent you bonded with regardless of their shortcomings?
I know as a social worker, the children in care 99.9% of the time want to go home with their caregiver that caused them harm, they return home after care 99.9% of the time and will quickly turn on you if you talk bad about their caregivers. So maybe it's a biological thing. Don't really know.
Regardless of their reasoning, it reminds me of another one of the reasons, I try and encourages caretakers when dealing with children with missing caregivers to remembers it is very important to support the relationship in whatever form is allowed by law. As the child will seek this relationship out and draw their own conclusions about the missing caregiver. I know I did, my mother who wasn't very supportive of our relationship with my father (and she had a justifiable concern), didn't allow this. But I kept wondering if he (father) was so bad, why would my mother
3. have several children from him over a several year period.
It didn't make sense to me. So if I wasn't getting a answer from her I was going to get it from the source (father and his family). Well it took me several years to get this answer. And I found out that
1. my father was not as big of a POS as my family called him and lead me to believe
2. that my mother and father really loved each other
3. that substance abuse is a terrible disease.
This help me deal with some of the unanswered questions and as I got older, experience life (relationships) I was able to understand the complexities of the relationship, and the hard decisions made when becoming a parent and dealing with unpleasant situations. As parents we often have to deal with these type of situations, but it makes me wonder and I ask. If (I know most never want to think this) but if you were ending your current relationship, how would you explain this to your children? What would you say? Would you allow your emotions to cloud your judgment regarding the children? Often they are used as pawns in relationships. Would this be you? Would you tell them the truth?